Real-Time, Hands-Free Inventory for Retailers
is Here Today
TurboAntenna is an advanced RFID antenna that enables, for the first time, real-time, hands-free inventory for retailers. Beyond the sales lift stemming from inventory accuracy, real-time RFID delivers eye-opening opportunities to boost customer service, execute omni-channel fulfillment and streamline in-store operations.
TurboAntenna combines the performance and flexibility required to overcome the hardest challenges of RFID in retail: eliminating employee compliance issues with handhelds (exacerbated by a 60% employee turnover rate) and solving the "static tag problem" that results from thousands of non-moving tags.
With simple, daisy-chain connections between TurboAntennas, it's easy to outfit a store, department or stockroom with hands-free RFID, and it can be mounted in open or closed ceilings or as a drop-in replacement for standard ceiling tiles.
Meet the Retail Task Management App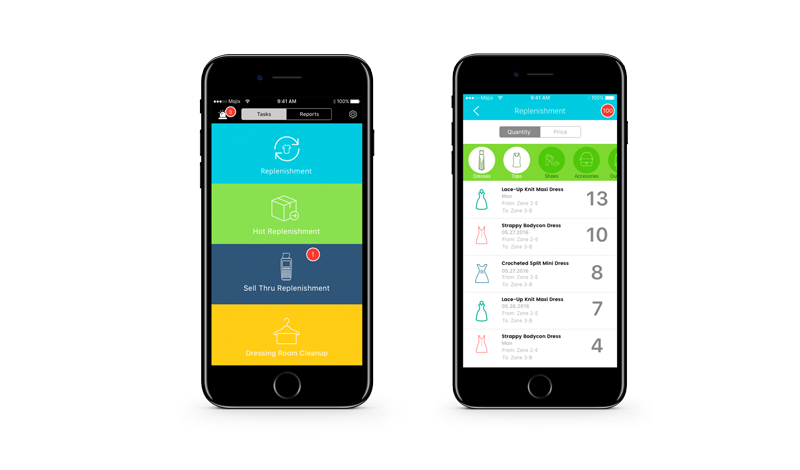 The Retail Task Management App helps retailers increase sales by using RFID data to trigger and streamline replenishment. Available to users of Mojix's OmniSenseRF Inventory Service, the App runs on IoS or Android devices carried by employees and triggers and streamlines replenishment via an elegantly simple user interface.
The Retail App can use calculated inventory data from periodic cycle counting and point-of-sale (POS) data but the highest precision and greatest benefit comes when used with Mojix's hands-free RFID system that provides real-time inventory data.
The Retail App syncs with the ViZix IoT Software Platform that managers can use to get up-to-the-minute status on inventory and replenishment performance at the SKU, department or store level.